ACE Members,
At the last site meeting we discussed common issues found in monthly paystubs. Always check your paystub for accuracy! Below are a few examples and what to do about them, plus updates on issues that impact our net pay.
Correction regarding item (1) "I didn't receive 10 hours for the July 4th Holiday – what do I do?"
The new answer is no action is needed – our monthly regular pay remained the same and we did not have to surrender any vacation leave to reimburse hours.
We verified with Nancy Chao that the calculation for Holiday pay defaults to 8 hours and is a "cosmetic display" (which I have a hard time saying when it comes to money) – see message below:
The holiday hours of 8 is defaulted in by the system and we would have modified it to 10 if we were alerted via your entry to the comments that it is a required work schedule, which you did (see below), and we failed to make the change to the holiday hours.  I am sorry for our oversight.

Please note that you are a contracted employee and are paid a monthly contractual amount per your salary grade and step. There will NOT be any additional compensation due to your holiday hours is 10 instead of 8 but it is cosmetic display of # of hours in your stub and pay history.
Again, we experienced no loss and there is no additional amount that is due to be paid out – we received the correct amount of monthly pay. Contact me if you need further explanation or if you have identified that your situation falls outside this explanation.
(2) I didn't receive the 5.56% 22-23 COLA – what do I do?
Wait (unfortunately.)
Until the 21-22 retroactive payment is calculated and paid out, the 22-23 ongoing salary schedule increase cannot be implemented due to how CalPERS reporting is structured. At the time of negotiations in June it was said that this calculation may take at least six months (December.) 🤞
Human Resources currently has a staff filling 6 of 13 positions, 2 of which are on reduced schedules. Everything is going to take longer than we'd like while there aren't enough workers to complete tasks. While we are patient and understanding, ACE will continue to communicate the impact that these delays have.
(3) I wasn't notified that I'd reached the vacation limit – what do I do?
Email olsenscott@fhda.edu
This would be a contract violation of section 9.2.5: A worker will be notified by a notice on his/her paycheck when he/she is within two pay periods of reaching his/her maximum vacation accrual for two years.
The "VAC LIMIT" box should have contained either "APPROACH" or "EXCEED" (see example below):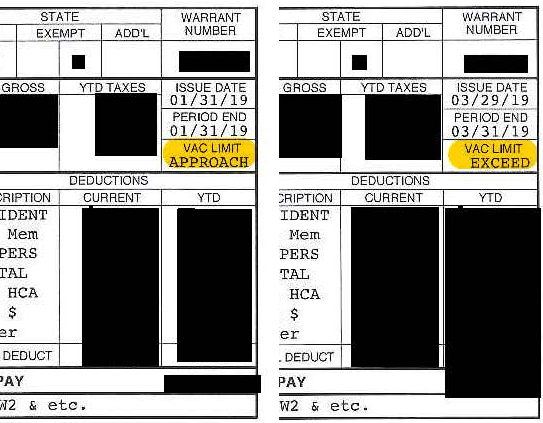 (4) I'm not paying the right amount for medical benefits – what do I do?
Email olsenscott@fhda.edu
This is an obscure occurrence, but it does happen. How do you know what you should be paying? You would have to dig deep into the FHDA website to find the rates (LINK) and then potentially into Article 18 (LINK), specifically 18.2.6 and 18.2.7, if you are part time or less than 12-month contact.
(5) HR/Benefits/Payroll deducted money without my approval – what do I do?
Email olsenscott@fhda.edu
This is illegal. FHDA cannot deduct for overpayment without your express written authorization. Before signing any documents, contact ACE to understand your rights. In consultation with our attorneys we can determine if the deduction is appropriate and how it should be managed.
(6) I didn't receive my step adjustment/longevity award – what do I do?
Email your nearest steward @Anthony Caceres(Foothill), @Erika Flores (De Anza), or myself to review Article 8 (LINK)
Read section 8.3 "Advancement on Salary Schedule" and 8.4 "Longevity." If you have not received an expected increase upon completion of the specified amount of time, ACE can help follow up with Human Resources and Payroll.
(7) I'm paying more for CalPERS as of July 2022 – what do I do?
CalPERS 2022-23 School Employee Contribution Rates (LINK)
Effective July 1, 2022, PEPRA members will contribute 8% of their regulate pay the CalPERS pension system. The contribution rate for classic members will remain at 7%.
Who's a PEPRA member? Short Answer: Anyone* hired after January, 2013. *exceptions may apply, see the CalPERS website for the long answer (LINK)
---
Thank you to @Phuong Tran and @Anthony Caceres for organizing the recent "ACE Coffee+Pastry Break" on the Foothill Campus. We'll work to coordinate similar events at De Anza and Central Services. It was great to see and talk to so many ACE members in person.
In Solidarity,
Scott Olsen (he/him) | ACE President
https://acefhda.org | olsenscott@fhda.edu
650-949-7789 | M-F 8:00am-5:00pm