ACE Members,
Happy Juneteenth! Labor Notes crafted a fantastic statement to accompany the 2022 conference:
The Juneteenth holiday celebrates the end of slavery in the U.S. It marks the anniversary of June 19, 1865, when word reached Galveston, Texas, of President Abraham Lincoln's 1863 Emancipation Proclamation, though many enslaved African American workers across the South had already been emancipating themselves in what W.E.B. DuBois characterized as a general strike that won the Civil War. Last year, after decades of struggle, Juneteenth became the first new federal holiday since Martin Luther King Day was established in 1983; many unions are fighting for their members to have the day off. Today Black workers are more likely to be union members than any other group, and have often pushed forward workplace militancy. The confluence of Juneteenth and the Labor Notes Conference offers us an opportunity to celebrate the Black liberation movement, explore its connection to labor struggles throughout our history, and make connections and plans together to expand the power of labor to win racial justice.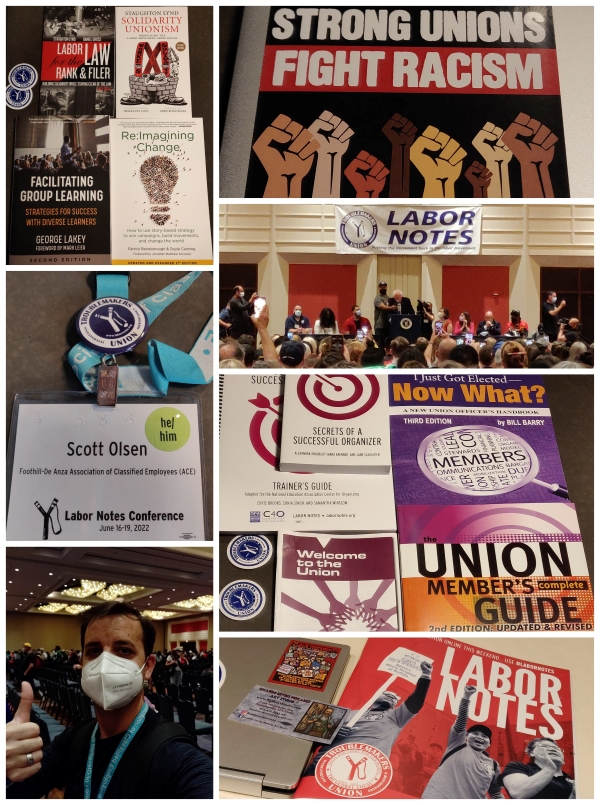 Recordings of the conference's main sessions are linked to below among the list of all the workshops I attended. Combined they are a lengthy (~3 hours) playlist of YouTube videos, so I've also included separate links to four impactful speakers and two performances, which provide an overall feel for what the experience was like. I highly encourage watching them to get energized about being part of a global worker movement.
This event was the perfect opportunity to learn and engage with fellow unionists. I dedicated my attention toward gathering guidance for building a stronger democratic organization. My luggage is weighed down by books and the ACE laptop is packed with notes that I'll be consolidating to share during upcoming meetings and messages. (I'm not going to bombard you with 4 days worth of information in one email.)
Sessions Attended
How to Be an Educator in Your Union
Building a Member Organizer Program
Building Worker Power through Peer Education
Developing the Leaders Your Union Needs
Building a Member-to-Member Leadership Network
Industrial Power in Higher Education: Organizing in Support Staff Unions
Higher Education Workers Meeting
Meet the Authors
Friday Main Session (YouTube)

Stacy Davis Gates, president-elect, Chicago Teachers Union
Nolan Tabb, John Deere striker, Auto Workers/Unite All Workers for Democracy
Dilson Hernandez, musician and hip hop artist
Sean O'Brien, president, Teamsters
Michelle Eisen, Starbucks Workers United
Chris Smalls, president, Amazon Labor Union
Bernie Sanders, U.S. Senator
Chair: Alexandra Bradbury, Labor Notes

Saturday Main Session (YouTube – audio resumes at 25:15)

Union Funk by Lynn Marie Smith, The Motown Diva
Victor "The Mixer" Bouzi, IATSE Local 695
Marcia Howard, Minneapolis Federation of Teachers
Chair: Elise Bryant, Labor Heritage Foundation

Race and Labor
Engaging New Members
Sunday Main Session (YouTube)

Israel Cervantes, Casa Obrera del Bajio, General Motors, Mexico
Jessica Wender-Shubow, Brookline Educators Union president
Jon Schleuss, president, NewsGuild
Liliana Herrera, singer-songwriter
Chair: Barbara Madeloni, Labor Notes
Special Note: Chris Smalls, president of the Amazon Labor Union, issued a call to action during his Friday night speech to boost the number of participants watching the hearings which would force Amazon to recognize the ALU as an employee union. Actively watch or leave a device logged in – Zoom meetings begin at 7am PST each day for the foreseeable future (click on the link for details.)
One workshop included the following: "To achieve power, we need a core group of union members who take on the responsibility of carrying out the program of the union by communicating regularly with coworkers to keep us informed, learn about what interests motivate us, sign up new members, and activate our co-workers on an ongoing basis." We can feel a lot of pride that we're a member-operated union which fits that description.
In Solidarity,
Scott Olsen (he/him) | ACE President
https://acefhda.org | olsenscott@fhda.edu
650-949-7789 | M-F 8:00am-5:00pm
*and for anyone who's tuned into how dues are spent, this trip was funded by travel and conference funding negotiated in our contract (Article 14.7) and a reminder that member dues are forgiven for the June paystub. Everyone at the conference whom I told about dues forgiveness thought it was an awesome practice. It's something we can provide because ACE is not part of a national labor organization.