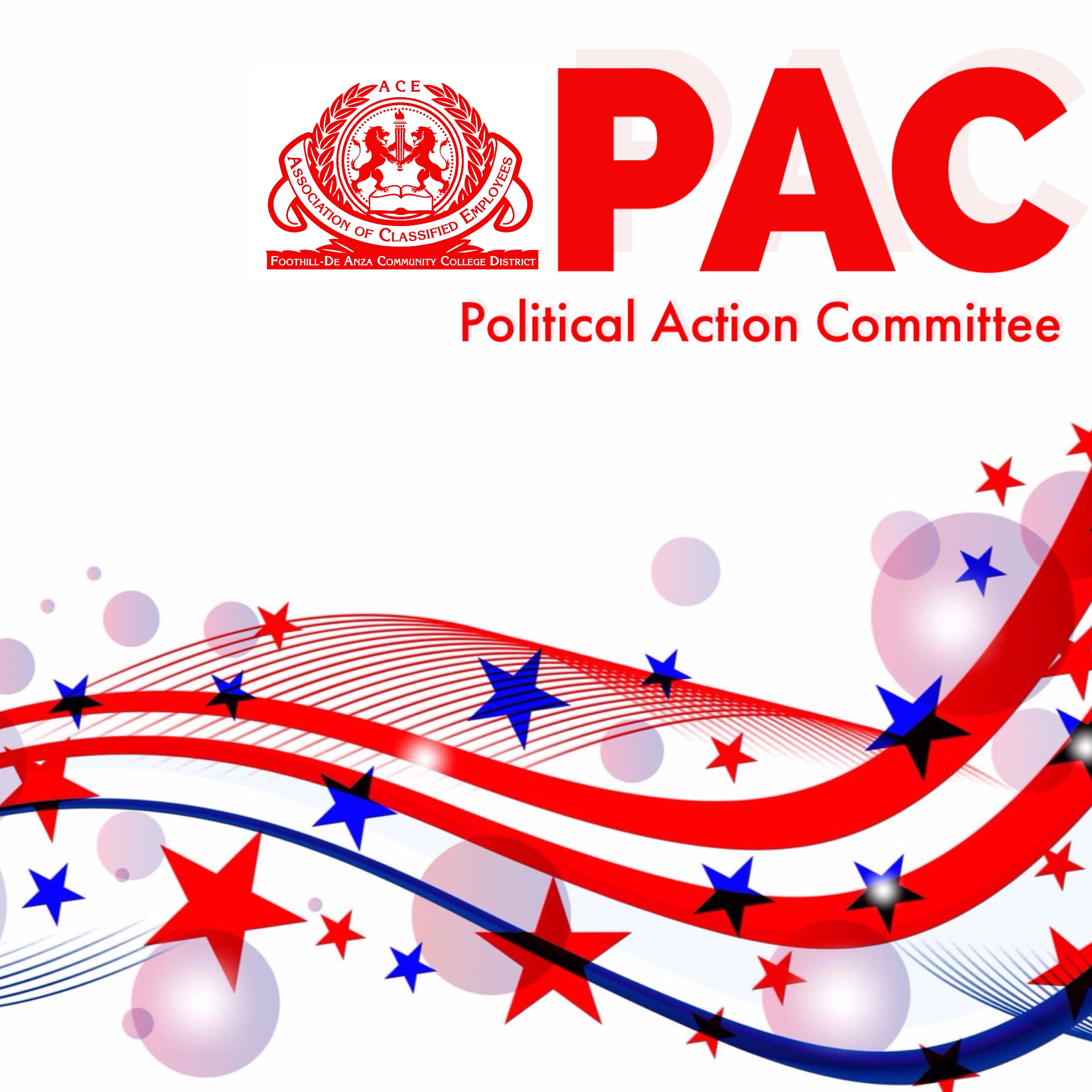 What is the PAC?
Established in 2010, the Political Action Committee (PAC) is a subcommittee of the ACE Executive Board. Through political education, candidate support, and issue advocacy, ACE PAC gives its members the power to promote and protect our members' and industry's interests.
PAC History
When the PAC was established ACE–with member approval–loaned the PAC fund $10,000 to support FHDA's parcel tax initiative with the hope of offsetting crippling budget cuts coming from the state.  Approval to fund the PAC was heavily favored by the membership.  However, the voluntary contributions to reimburse ACE for the loan have not been as robust. To date, the PAC fund still owes $3,000 to ACE.
Why is the ACE PAC important?
Every day elected officials in state and local government make decisions that impact our lives as workers. These decisions can impact everything from the safety and health conditions of the facilities we work in, to the security of our pensions, to whether or not we have the right to negotiate a fair contract.
Therefore, we work tirelessly to make sure members' voices are well-represented and that elected officials are held accountable when they aren't working in our favor.
Like any movement, ours relies on a strong political message and an active and engaged membership that participates in the political process and seeks to influence labor-friendly policy.
Why should you contribute to ACE PAC?
When you donate to ACE PAC, you're sending a clear message to the FHDA Board of Trustees and local and state elected officials that classified staff issues are important to our profession, to the wider community college collective and to public interest sectors.  That clear message? We will be heard on matters that affect our careers and our families.
The ACE PAC focuses our advocacy on issues that directly affect classified staff and Foothill-De Anza, such as:
FHDA Board of Trustee races;
Political action that directly relates to FHDA; and
Statewide initiatives affecting community colleges.
How can I contribute?
Our ACE PAC is comprised of small, voluntary contributions from members like you.  Make a one-time donation or a monthly, ongoing contribution for any amount that works for your budget.  Complete the ACE PAC Deduction Form and return it to the ACE office (Room D140 which is located adjacent to Lot 1-D at the Foothill campus).  We also need your time and talent with political causes and campaigns that are important to you and your classified colleagues.
Do I have anything to say about ACE PAC?
Absolutely, your voice will be heard. We welcome the insights and viewpoints of our members, especially with respect to candidates and local and state initiatives affecting FHDA classified staff.  The ACE Board reserves the authority to determine the amount of any contribution or make an endorsement. See the  ACE Political Action (PAC) Policy for complete PAC guidelines.